> the route >
---
British Columbia - Alberta - Saskatchewan - Manitoba - Ontario - Quebec - New Brunswick - P.E.I - Nova Scotia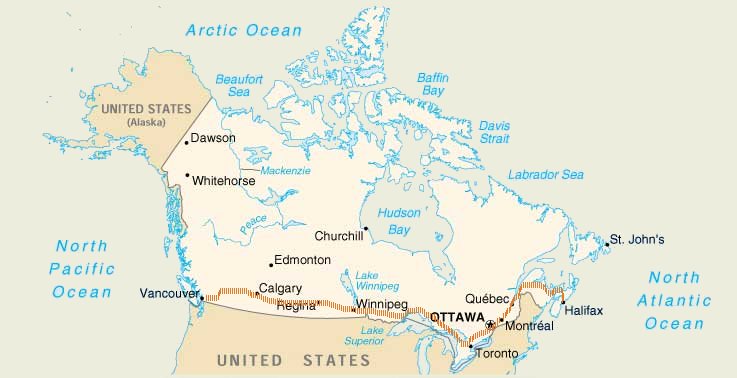 ---
British Columbia - Beautiful British Columbia
Vancouver - Hope - Princeton - Kelowna - Revelstoke - Golden
[ Distance 891.47 km | 11 days incl. 1 day of rest ]
Boasting fantastic valleys and awe-inspiring mountains, British Columbia is the most beautiful and exciting province. After only one day or about 120 km of riding you hit the mighty Rockies and from the town Hope to the Alberta border it's all up and down. Through the southern part of BC there are two routes: Hwy 1 (The Trans Canadian Highway) or Hwy. 3 (Crowsnest Highway).

We kept to Hwy. 3 out of Vancouver and turned up through the Okanagan Valley to meet the TCH. This took us over Roger's Pass and Kicking Horse Pass to Alberta. Okanagan Valley is sunny and consequently packed with fruit stands - that unfortunately weren't open when we went through. This route also takes you to Lake Louise, which has the most enthralling green-blue colour I've ever seen.
---
Alberta - Wild Rose Country
Banff - Calgary - Bassano - Dinosaur Provincial Park - Medicine Hat
[ Distance 669.99 km | 8 days incl. 2 days of rest ]
Alberta is the first of Canada's three prairie provinces and from Lake Louise and Banff you're out of the mountains within half a day. And then you're met by a dull flatness that you soon curse (the prairie continues for more than 2,000 km). Calgary is the first major city (800,000 people) after Vancouver, but apart from The Olympic Park and The Calgary Stampede, held in the second week of July, the city is quite bland. What is interesting in this province, however, is Dinosaur Provincial Park, located north of Brooks. A Grand Canyon-like landscape with a camp site (mind the rattlesnakes) and the real possibility of being overwhelmed by the place's beauty. Apart from this detour we stayed on the TCH all through Alberta.
---
Saskatchewan - Land of Living Skies
Swift Current - Moose Jaw - Regina - Whitewood - Moosomin
[ Distance 607.03 km | 6 days incl. 1 day of rest ]
Biking Saskatchewan, it quickly dawns on you that the province lives up to its credo Land of Living Skies. While the flat countryside is quite dull, the skies are eternally changing and present rapid weather shifts and thunder storms that boggle the mind in magnitude.

The weather was rather poor in Saskatchewan, including lots of rain and headwind, and it seemed as if we would never arrive in Manitoba. But on the last day, a powerful tailwind blew us out of the province. We kept to TCH all the way and were happy to ride the broad, paved shoulders from start to finish.
---
Manitoba - Friendly Manitoba
Virden - Brandon - Portage la Prairie - Winnipeg - Whitemouth
[ Distance 493.88 km | 4 days incl. 1 day of rest ]
Manitoba is the worst province when it comes to shouldered roads. Several times we had to ride on the car lane itself and we never saw any of the broad shoulders we were accustomed to from the previous three provinces. Winnipeg, where we enjoyed a day of rest, might be charming in sunshine (we were recommended a park called The Forks), but downtown seemed desolate when we were there under an overcast sky.

On the way to Winnipeg we rode the TCH, but from there we took to the deserted Hwy. 44, which is recommendable. Not only did we encounter lots of wildlife, we also spent the night at the house of some strangers we met near the provincial border.
---
Ontario - Yours to Discover
Kenora - Thunder Bay - Sault Ste. Marie - Espanola - Owen Sound - Barrie - Ottawa
[ Distance 2467.11 km | 27 days incl. 6 days of rest ]
Ontario is never-ending. It took us almost a month and nearly half of the total distance to fight our way through the province. But that doesn't matter, because Ontario has lots of variation, is hilly (not mountainous) and is a thoroughly great experience. North Ontario is known for its desolate stretches, rugged terrain and abundance of mosquitoes and black flies. But with a summer that, so far, had been wet and cold when we arrived, the insect population wasn't overwhelming. We had heard bad stories about the road north of Lake Superior (Hwy 17), but were surprised to find nice drivers and paved shoulders. This was also the stretch where we started meeting other bikers doing cross-country like ourselves.

From Sault Ste. Marie we biked to Espanola and down to Manitoulin Island - the largest fresh water island in the world and a very beautiful spot. From the tip of the island there is a ferry ($16) to Tobermory and Southeast Ontario. From here we did a straight line to the capital Ottawa.
---
Québec - Je me souviens
Montreal - Trois Riviéres - Québec City - St-Jean-Port-Joli - Riviére-du-Loup - Notre-Dame-du-Lac
[ Distance 756.73 km | 8 days incl. 2 days of rest ]
Along the Ottawa River from Ottawa to Montréal there are several tiny ferries taking passengers and cars between Ontario and Québec. We crossed at Cumberland and biked to Montréal along the north bank of the river. From Montréal - which is a truly amazing city - it's a beautiful ride to Quebec City on Hwy. 138. At Quebec City it's a good idea to cross back to the south side, and this can be done at Pont Quebec and Hwy. 132. On to Riviére-du-Loup where we found a gravel path (part of Route Verte, a bike path system covering several hundred kilometres), that took us all the way to New Brunswick.
---
New Brunswick
Edmundston - Grand Falls - Plaster Rock - Miramichi - Moncton - Sackville
[ Distance 531.61 km | 4 days incl. 0 days of rest ]
New Brunswick was our first maritime province. The province is inhabited at the edges and has forests and hills at the centre. To get to Mirimichi and the east side of NB, we took a shortcut through the middle and biked 138 desolate kilometres along Hwy. 108. From Miramichi to Moncton we rode Hwy. 126 in order to get to the world's highest tide at the Bay of Fundy. We saw the tide at a river near Sackville and continued on the TCH up to Confederation Bridge - the gateway to Prince Edward Island.
---
Prince Edward Island
Borden - Cavendish - Charlotte Town - Wood Islands
[ Distance 169.43 km | 3 days incl. 1 day of rest ]
Prince Edward Island's excellent sand beaches are sitting on the north side of the island. And that was exactly where we headed after crossing The Confederation Bridge (longest in the world) in a pick-up truck - transportation for pedestrians and people on bikes is free. PEI is filled with bike paths and small winding roads, perfect for two-wheelers. From Cavendish we headed down to Charlotte Town and on to the Nova Scotia ferry via the TCH..
---
Nova Scotia - Canada's Ocean Playground
Caribou - Truro - Elmsdale - Halifax
[ Distance 295.24 km | 2 days incl. 0 days of rest ]
Completed in only two days, it's evident that this was our last province. At this point we were eager to cross the finish line, but NS definitely deserves a closer and longer look. From the PEI ferry we rode an almost straight line to Halifax, keeping to Hwy. 106, 104 and 2.

Finally Halifax!
---
| home | about our trip | equipment | photos | the route | logbook | about me | links | guestbook |