This project started in the spring of 2003. A dozen people met up in Mannheim, Germany to celebrate and drink to their friendship - a friendship created during studies at Wilfrid Laurier University in 2001/2002. At this reunion, the Canadian Kristen Elliott, German girl Gabriela Pierow and myself agreed that biking across Canada was a great way to spend a summer and a couple of thousand dollars. And a year later, the leap from drunken banter to reality was made; on the 15th May 2004 I flew to Toronto. And about 5 hours later Kristen and I found ourselves in Vancouver - unfortunately without Gabriela who landed herself a job in Berlin. In Vancouver we spent four days before embarking on a trip that took us through nine provinces, five time zones and over 6,882 km.
The journey gave us lots of the great outdoors, lots of sunshine, lots of rain and the friendship of hundreds of nice Canadians. It went through the Rockies, at least 2,000 km of flat prairie, rocky Northern Ontario and the forests and farmlands of the Maritimes.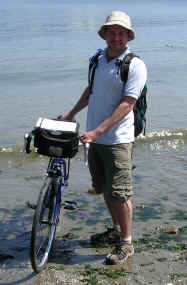 The Pacific Ocean, Vancouver, 18th May 2004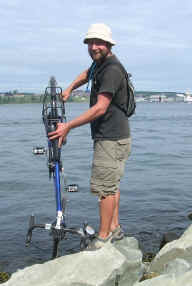 The Atlantic Ocean, Halifax, 27th July 2004
We biked around 120 km per day and rewarded our bodies one day of rest every week. Our diet was extensive - very extensive. Regardless, we lost almost 45 pounds between the two us. We mainly slept at camp sites in our tent, but did motels whenever we were soaked. We also stayed with strangers, who hospitably invited us to invade their homes. In short, we enjoyed the freedom of not knowing where every new day would take us.
When we finally reached Halifax, the distance we covered seemed incomprehensible and our minds were reduced to remembering only single days and unique moments. This website is an attempt to restore the chronology of the trip in my head - I hope you'll benefit from it as well.
Click here to see the statistics from the trip